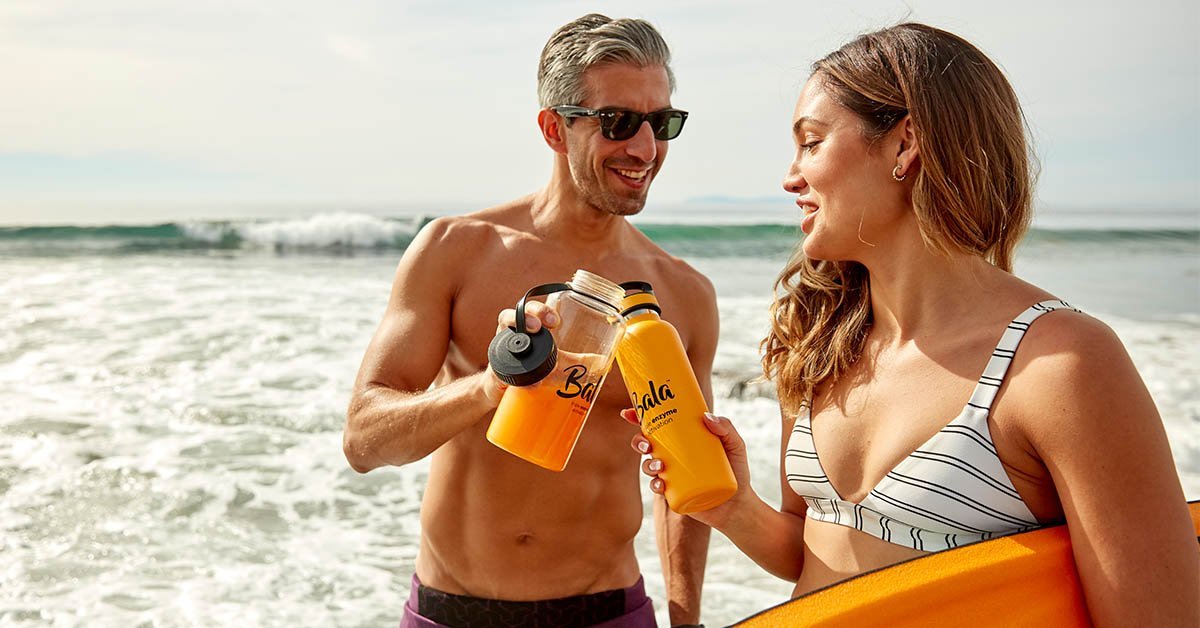 No, Bala Enzyme is not an energy drink. An energy drink contains stimulant compounds including caffeine, and are marketed as providing mental and physical stimulation. Bala does not contain ANY stimulants, only all natural ingredients that help to support muscle recovery, support hydration, and support joint function.
---
Our hydrating Bala powdered beverages contain three plant based enzymes: Bromelain, Turmeric, and Papain. These ingredients, along with the necessary electrolytes help to accelerate hydration while also providing additional benefits such as supported muscle recovery and joint function. Unlike most hydration supplements that rely on sugar to transport electrolytes, Bala utilizes key amino acids at very specific doses and ratios to effectively deliver these enzymes and electrolytes into the bloodstream.
---
Check out the ingredient list on our website for each product and flavor. 
---
We recommend that you drink hydrating Bala powdered beverages 2-3 times daily for 5 consecutive days in order to experience the best results. Be sure to continue daily usage to maintain its effect.
---
Our product is generally safe and well tolerated when taken by healthy individuals in the suggested dose. We always recommend that you contact your physician before using any product while you are under their care for any medical condition. Do not use if you are pregnant or nursing. If any adverse reactions occur, immediately discontinue use and consult a health care professional.
---
Our products are processed in the USA at cGMP laboratory. They are formulated and backed by an extensive body of literature supporting the ingredients' safety. All of the ingredients found in Bala are generally recognized as safe in compliance with FDA guidelines. The nutritional analysis for the Bala Enzyme products are performed and verified by a Third Party Laboratory Analysis.
---
There are multiple independent natural stores that also carry Bala. You can also shop for Bala on our website or online on Amazon.
---
Fewer aches and pain and more vitality!
---
No! Bala is sugar-free and derived from all natural ingredients. Bala is sweetened with Stevia Leaf Extract. 
---
Bala is made with real turmeric, which does not completely dissolve in water. Settling is normal. Simply shake or swirl your drink to mix the turmeric back into your drink!
---
Electrolytes are electrically-charged minerals which help regulate everything from hydration (the body's ability to absorb water) to muscle function — including the most important muscle of all: the heart. Every cell, tissue, and organ requires hydration to perform functions such as maintaining temperature, disposing of waste products and lubricating joints.
---
Because we use real turmeric, Bala may stain certain clothing and countertops. Please use caution when opening the stick pack and pour into your bottle carefully. Open like you would open red wine – gently!
---
We recommend drinking Bala at least once a day, up to three times a day. Bala can be taken any time of day, but we recommend drinking Bala on an empty stomach for best results.
---
Our stick packs have notches at the top for easy opening!
---
Simply tear open your stick pack using the notch located at the top, pour the powder into a bottle with at least 16 oz of water (or more, adjust water to your tastes), shake up your bottle for about 30 seconds to mix, and enjoy!
---
Bala has 0g of sugar and <1g of total carbs, so it is diabetic-friendly.
---
Bala's formulation is patent-pending so it can't be changed. In addition, the taste of monk fruit is exceedingly sweet and can leave a bad aftertaste. Manufacturers try to balance the taste by mixing it with other sugars and our product is sugar-free. Additionally, monk fruit is expensive, which would in turn increase the cost of our products.
---
Bala's proteolytic enzymes help break down the food you eat so that you can properly digest and absorb the nutrients from that food and assist in relieving symptoms such as bloating, constipation, and diarrhea. Dehydration is one of the top causes of constipation. Someone with diarrhea will become dehydrated. Drinking Bala can fuel the body with electrolytes to rehydrate the body.
---
It is an Amino Acid that facilitates the absorption of electrolytes and helps build protein.
---
Yes, all hydrating Bala products are Gluten-free and non-GMO. 
---
We recommend storing your Bala Enzyme in a dry and cool space in your home.
---
Bromelain is a digestive enzyme that helps digestion and reduces the types of proteins that causes inflammation of the lining of the gut and decreases colon inflammation. Papain breaks down protein into smaller pieces to help with digestion and reduce inflammation.
---
Bala's anti-inflammatory benefits can help relieve any discomfort associated with inflammation.
---
We can't disclose this information as it is a patent-pending process.
---
Curcumin in Bala has antioxidant properties.
---
If you are allergic to pineapple, you should NOT take Bala Enzyme. All Bala Enzyme products and flavors CONTAIN Bromelain, which is an enzyme found in pineapple.
---
If your order hasn't shipped yet, email us at info@balaenzyme.com or contact us herewith the new shipping address and we will get that updated for you. If your order has already shipped, unfortunately it cannot be modified but we will try our best to redirect the package with the courier. Simply get in touch with our team via info@balaenzyme.com or contact us form here.
---
Tracking numbers will be located in the shipping confirmation email. All orders are shipped via USPS. Copy and paste the tracking number from the email to USPS's tracking tool to check on the shipping progress.
---
Please share your coupon code with us via info@balaenzyme.com or contact us form here within 7 days of your order. If your order is eligible, we will provide a refund for the discount amount. Please note if it has been more than 7 days since your order, we will not be able to provide a refund.
---
All orders are shipped daily Monday - Friday via USPS and typically deliver within 4-5 business days. For up to date and accurate shipping information, please track your order via the tracking number. Missing a tracking number? Contact us at info@balaenzyme.com and we'll get it sorted. 
---
You can easily reset your password by click here and following the password reset process. If you still need help, get in touch via info@balaenzyme or contact us form here!
---
You can modify your shipment, change address or payment, skip a month, or cancel your subscription by logging into your subscription account. If it is your first time logging in, you will need to request access. You can also reach out to the Bala team at info@balaenzyme.com for assistance.
---
All orders are shipped via USPS.
---
At this time, orders can only be shipped within the US.
---
If you are not satisfied, orders can be returned within 30 days. We ask that customers provide postage for shipping the order back to us. Once we receive the order, we can issue you a full refund. See our full return policy.
---
Refunds will be credited back to the original payment method within 3-10 days, depending on the payment method.
---